Alice in Wonderland 4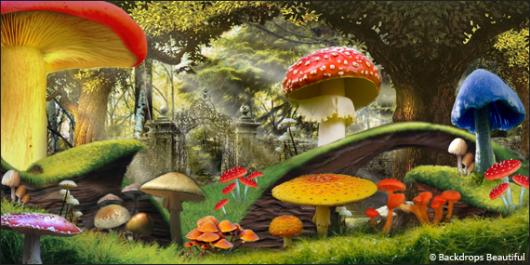 This image is a representation of our painted backdrop. Actual photo available upon request.
Backdrop Specifications:
Backdrop Name: Alice in Wonderland 4
Backdrop SKU: FT-2015-2132
Backdrop Size: W20ft X H15ft
Backdrop Weight: Approx. 15 lbs

Click here to see other Alice in Wonderland Backdrops in Action
Wonderland is a place we've all visited at some time or other in our lives! Small beings amongst larger than life nature, places Alice in a bewitched world of enormous and unrealistic plants. Our Alice in Wonderland 4 backdrop is one of a series of colorful, vivid backdrops depicting a lush, woodsy, fairytale like scene. Through the intricate rusty iron gate you arrive in a new and magical land called Wonderland. With its landscape of colorful mushrooms and grassy, woodsy hills, this most beautiful whimsical garden looks like it could provide a residence for gnomes or fairies. This Alice in Wonderland backdrop series bestows rich fantasy and is great for stories or events filled with magic, myth and legend. Allow this magical backdrop help you to narrate your own mushroom tale. The size of this backdrop is shown as 20ft wide by 15ft wide, but we can custom design this backdrop to any size that is requested. Since we are showing a digital image of our backdrop, we can provide photos of our painted backdrop at your request. Our backdrops feature an airbrush technique that produces only the highest quality of painted backdrops that provide the atmosphere that you are looking for. The Alice in Wonderland 3 backdrop can be purchased or rented for any length of time. Pricing is available upon request. For any questions that you have regarding our backdrops, please feel free to contact our sales team! This serene and enchanting mushroom forest is one in a series of our Alice in Wonderland backdrop series. It depicts a lush, woodsy, fairytale like scene, making it quite a good backdrop for stories or events filled with magic. This backdrop scene includes red, yellow and blue mushrooms in front of a large tree accented with a grassy bridge above a river valley.
---