Icons 1B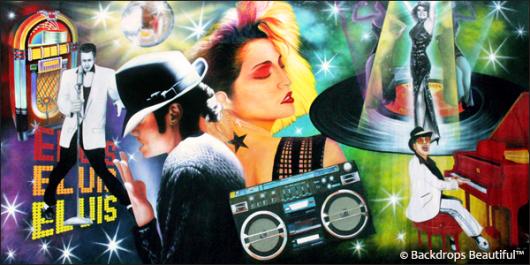 This image is an actual photograph of the hand-painted backdrop.
Backdrop Specifications:
Backdrop Name: Icons 1B
Backdrop SKU: HW-4020-0976
Backdrop Size: W40ft X H20ft
Backdrop Weight: Approx. 32 lbs
Celebrate and commemorate the historic figures of the past with the Icons Backdrop. Our signature backdrop is hand painted and highly detailed. It vividly displays the music and dance icons of the past. Nostalgia is present as the legendary Elvis can be seen signing into his microphone, while the King of Pop Michael Jackson is adorned in his famous black attire. The very talented Whitney Houston and Tina Turner come to life as the spotlight glimmers around them. They are in the depths of space surrounded by sparkles of lights and the symbols of the past. A vintage jukebox, disco ball and an oversized record provide a historic element. Travel through time and witness history. The icons are truly doing what they love and thus exude passion and emotions. The Icon Backdrop is ideal for music and pop culture themed events and can also be used to celebrate icons of the past.
---