Games 1B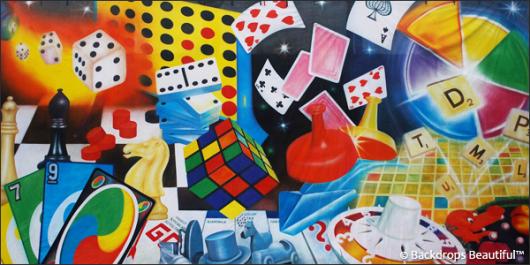 This image is an actual photograph of the hand-painted backdrop.
Backdrop Specifications:
Backdrop Name: Games 1B
Backdrop SKU: MS-4020-0787
Backdrop Size: W40ft X H20ft
Backdrop Weight: Approx. 32 lbs
Bring the love and enjoyment of games and puzzles with the Games Backdrop. Our signature backdrop is hand painted and highly detailed. It creatively showcases and intertwines the many favorite games and puzzles of the past and present. Recreate the fun and laughter we once had while playing connect the dots, chess and candy land. Rejoice in finding the perfect word in scrabble, solving the rubics cube, and playing cards. The games and puzzles are shown in a fun and interactive fashion and the dark background is bedazzled with sparkles. The Games Backdrop is perfect for any gaming themed event as well as children's birthday parties.
---