Fantasy Castle 1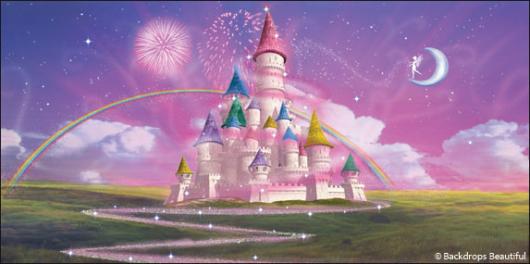 This image is a representation of our painted backdrop. Actual photo available upon request.
Backdrop Specifications:
Backdrop Name: Fantasy Castle 1
Backdrop SKU: FT-4020-2200
Backdrop Size: W40ft X H20ft
Backdrop Weight: Approx. 32 lbs
Leave reality behind and dive into a dream world with our Fantasy Castle backdrop. This scene portrays a green grassy meadow with a glittering zigzag pathway that leads up to a gorgeous fantasy castle. The castle itself has more than five stories and is equipped with several towers topped with different colored cones. Anyone inside the castle would have to explore for days to see each nook and cranny of the magnificent structure. The sky fades from soft lavender to wistful pink as larges white puffs of clouds float across in the distance. The crescent moon is home to a pixie fairy who calls on the stars to come out after the sun sets. Fireworks burst in the sky into blooms of fiery embers just above a beautiful rainbow that completes the imaginative landscape.
Our Fantasy Castle Backdrop will make everyone feel as if they are part of the fairy tale event you chose to create. Whether you stage a complete venue or a single room in your own house, our backdrops can definitely help you make the most of your décor budget. This backdrop was designed with vibrant colors keeping in mind the different color swatches a fairy tale themed event might demand. Our backdrops can wow an audience on their own, but can really create an ambience if proper lighting is applied. We work with many lighting companies and can suggest one in your neighborhood if you decide to incorporate lighting into your backdrop rental.
We can custom design and paint any backdrop in any size. Our Fantasy Castle 1 backdrop is 40 feet wide and 20 feet high but other sizes are available. We also offer several similar backdrops featuring fantasy castle scenes, which can be found under our Celebration and Dance categories. We have allowed for some of our backdrops to appear in several backdrop categories so that we can help you see that many of our backdrops can be used in more than one theme. You can find this backdrop in two of our categories: Fantasy Backdrops and
Castle Backdrops
.
---