Beatles 4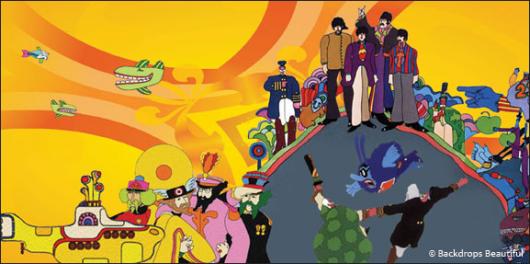 This image is a representation of our painted backdrop. Actual photo available upon request.
Backdrop Specifications:
Backdrop Name: Beatles 4
Backdrop SKU: MU-4020-1404
Backdrop Size: W40ft X H20ft
Backdrop Weight: Approx. 32 lbs
We all live in a yellow submarine, a yellow submarine, a yellow submarine. . . Here we are transported to an era of timeless music and wild imagination. We�re looking at a portrait from the classic movie The Yellow Submarine, featuring all of The Beatles in their animated character form. Atop a colored rock we see all four of them standing together: Ringo in his red and blue striped button down, John in pink and green with his hands raised in the �love� sign, George in a brown coat and Paul standing front and center in purple with beige slacks and a red and yellow tie. Below them is one of the infamous �Blue Meanies� who traumatize the members of the band throughout the movie, causing mischief and always up to no good. Sgt. Pepper and his Lonely Heart�s Club Band can be seen at the bottom of the hill, supporting one another and sporting different colored beards. Set against a bright yellow sky that doubles as the depths of a colorful sea, strange human-like fish float by. Large green sea creatures swim around with their teeth bared, and interesting plants of all colors shapes and sizes sprout from the hill that all of the characters reside on. The feel of this backdrop is trippy, exciting, and colorful. The Beatles are an iconic group that will forever influence music and art culture, clearly represented here on this backdrop.
---