Beatles 2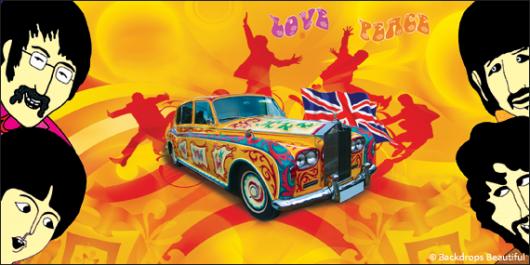 This image is a representation of our painted backdrop. Actual photo available upon request.
Backdrop Specifications:
Backdrop Name: Beatles 2
Backdrop SKU: MU-3015-1402
Backdrop Size: W30ft X H15ft
Backdrop Weight: Approx. 18 lbs
Celebrate one of the world's most legendary rock bands with our Beatles 2 backdrop! This vibrant scene encompasses the Euro style and sophistication that made the Beatles famous. The band was formed in 1960 in Liverpool, England. John Lennon, Paul McCartney, Ringo Starr, and George Harrison took the world by storm and stole the hearts of millions of fans. Their enormous popularity created "Beatlemania" as they grew to become one of the most successful bands of all time. Their international hits, such as "Yellow Submarine" and "I Wanna Hold Your Hand," are rock classics still even today. In this scene, the British flag proudly waves as a psychedelic town car races under words of love and peace. This backdrop will definitely portray a rockin' scene for your special event or recital. This backdrop is 30 feet wide and 15 feet high, and other sizes are available. We also offer several similar backdrops featuring the Beatles, which can be found under our Dance Backdrop categories. Even though you are viewing a digital image, we can provide photos of the painted backdrop for viewing. We stand by the high quality of our backdrops painted by our talented artists using an airbrush technique. Lighting will enhance the color and detail in our backdrops. Remember that the best way to view a backdrop of this size is to stand back at least 20-200 feet and enjoy the atmosphere it creates. Please refer to our hanging instructions to learn the best way to display this backdrop for your special event. You may purchase this backdrop or rent it from us for any length of time. Since the pricing of all of our backdrops is available upon request, our sales team is eagerly standing by to assist with any questions regarding your event and our backdrops!
---