Asian Dragon 1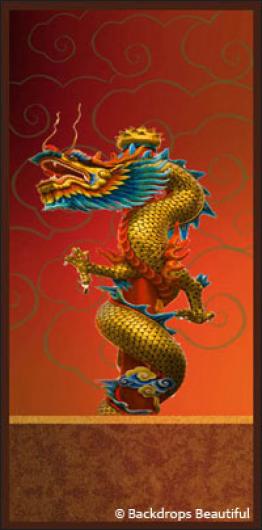 This image is a representation of our painted backdrop. Actual photo available upon request.
Backdrop Specifications:
Backdrop Name: Asian Dragon 1
Backdrop SKU: AS-1020-0052
Backdrop Size: W10ft X H20ft
Backdrop Weight: Approx. 8 lbs
This Asian Dragon 1 backdrop portrays an honored Chinese mythical creature, the dragon. It is considered to be the main of four spiritual animals, the others being the phoenix, the unicorn, and the tortoise. The dragon is said to made up of nine different earth animals; it has the head of a camel, the scales of a fish, the horns of a stag, the eyes of a rabbit, the ears of a bull, the neck of a snake, the belly of a clam, the paws of a tiger, and the claws of an eagle. This animal symbolizes wisdom, power, and royalty because the Emperors of China were considered dragons themselves. It is popular in ancient Chinese art, and in contemporary graphic design, including apparel and home d�cor. The dragon is also a common request for tattoo artists because of its celebrated symbolism. Our Asian Dragon1 backdrop will bring a majestic presence to any special event or recital. Use this backdrop with Asian Buddha 1 and Asian Pagoda 1 for a complete Asian inspired setting. This backdrop is 10ft wide and 20ft high, and other sizes are available. Even though you are viewing a digital image, we can provide photos of the painted backdrop for viewing. We stand by the high quality of our backdrops painted by our talented artists using an airbrush technique. Lighting will enhance the color and detail in our backdrops. Remember that the best way to view a backdrop of this size is to stand back at least 20-200ft and enjoy the atmosphere it creates. Please refer to our hanging instructions to learn the best way to display this backdrop for your special event. You may purchase this backdrop or rent it from us for any length of time. Since the pricing of all of our backdrops is available upon request, our sales team is eagerly standing by to assist you with any questions you may have regarding your event and our backdrops!
---