Asian Buddha 1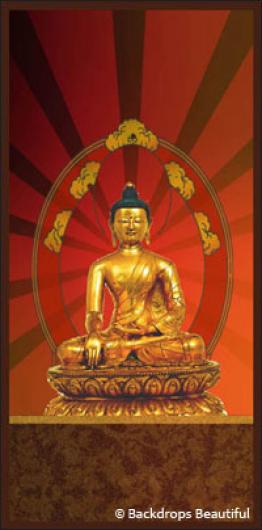 This image is a representation of our painted backdrop. Actual photo available upon request.
Backdrop Specifications:
Backdrop Name: Asian Buddha 1
Backdrop SKU: AS-1020-0051
Backdrop Size: W10ft X H20ft
Backdrop Weight: Approx. 8 lbs
Reconnect with your spiritual side with our Asian Buddha 1 backdrop, which features a golden Buddha in front of a red abstract background. The traditional red color in the Chinese culture represents a symbol of celebration, happiness and good luck. The golden Buddha is an important religious figure originating in eastern countries. �Buddha� generally means �Awakened One�, meaning someone who has awakened from ignorance and sees things as they really are. Buddhists appreciate the gift of life and strive to live it in a meaningful way instead of working only for material wealth. Many people are preoccupied with fulfilling insatiable desires instead of making the best of what they already have. Buddhists reach enlightenment by practicing reflection through meditation in a calm and peaceful space. Our Asian Buddha 1 backdrop will bring a powerful, yet tranquil presence to any special event or recital. Use this backdrop with Asian Dragon 1 and Asian Pagoda 1 for a complete Asian inspired setting. Asian Buddha 1 is 10ft wide and 20ft high, and other sizes are available. Even though you are viewing a digital image, we can provide photos of the painted backdrop for viewing. We stand by the high quality of our backdrops painted by our talented artists using an airbrush technique. Lighting will enhance the color and detail in our backdrops. Remember that the best way to view a backdrop of this size is to stand back at least 20-200ft and enjoy the atmosphere it creates. Please refer to our hanging instructions to learn the best way to display this backdrop for your special event. You may purchase this backdrop or rent it from us for any length of time. Since the pricing of all of our backdrops is available upon request, our sales team is eagerly standing by to assist with any questions regarding your event and our backdrops!
---