Stage Magic 1B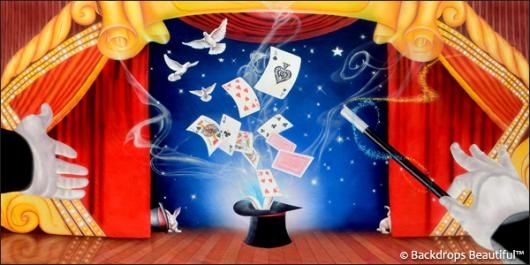 This image is an actual photograph of the hand-painted backdrop.
Backdrop Specifications:
Backdrop Name: Stage Magic 1B
Backdrop SKU: SD-4020-3846
Backdrop Size: W40ft X H20ft
Backdrop Weight: Approx. 32 lbs
Perform astonishing magic feats with the Stage Magic Backdrop. Our signature backdrop is hand painted and highly detailed. It innovatively places you as the magician performing your own magic tricks. The backdrop can also be used as a mysterious and majestic stage. As the magician you are in your lavish black suit and bright white gloves. Point your magic want at the stage and be amazed as you levitate cards out of your magician's hat, while smoke fills the air. White bunnies frolic around the stage, which consists of a brown wooden floor, red colored drapes and a sparkly blue background. An overhead golden banner adorned with illuminating lights adds to the illusion. The Stage Magic Backdrop is perfect for magic themed events or shows.
---