Circus 3B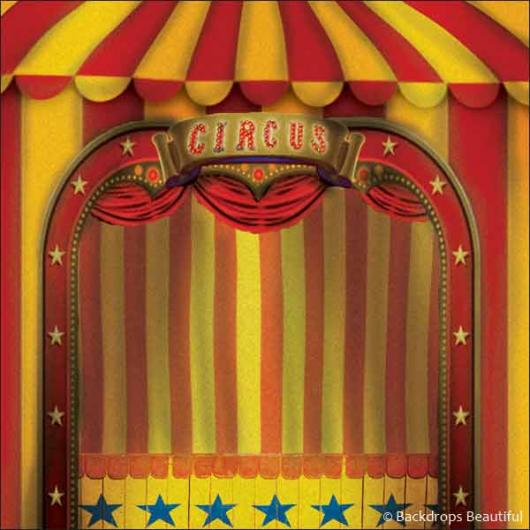 This image is a representation of our painted backdrop. Actual photo available upon request.
Backdrop Specifications:
Backdrop Name: Circus 3B
Backdrop SKU: CM-1010-2005
Backdrop Size: W10ft X H10ft
Backdrop Weight: Approx. 5 lbs
Put on your own spectacular show with our Circus 3B backdrop. This scene depicts a makeshift stage featuring yellow and red vertical stripes. The red draped curtains are pulled up, ready for the big show. Blue stars line the stage in contrast with the yellow riser. The frame of the stage is adorned with gold stars that lead up to a sign that says Circus, backlit by soft lighting. Imagine sitting in the crowd, anxiously awaiting the fantastic performance, while other acts throughout the tent compete for your attention. Just behind you would be the trained elephant parading its trainer around while showing magnificent tricks. High above in the air would be death defying trapeze artists flying through the air without hesitation. Circus 6 will be an incredible addition to any special event or recital, and is sure to make heads turn. This backdrop is 10ft wide and 10ft high, and other sizes are available. We also offer similar backdrops that can be found under the Carnival and Circus Backdrop categories. Even though you are viewing a digital image, we can provide photos of the painted backdrop for viewing. We stand by the high quality of our backdrops painted by our talented artists using an airbrush technique. Lighting will enhance the color and detail in our backdrops. Remember that the best way to view a backdrop of this size is to stand back at least 20-200ft and enjoy the atmosphere it creates. Please refer to our hanging instructions to learn the best way to display this backdrop for your special event. You may purchase this backdrop or rent it from us for any length of time. Since the pricing of all of our backdrops is available upon request, our sales team is eagerly standing by to assist with any questions regarding your event and our backdrops!
---