Castle Courtyard 2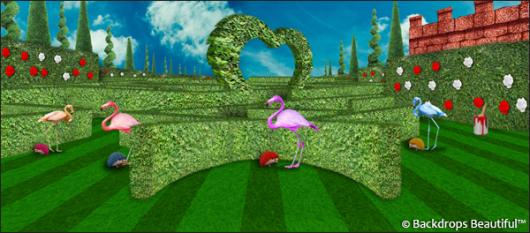 This image is a representation of our painted backdrop. Actual photo available upon request.
Backdrop Specifications:
Backdrop Name: Castle Courtyard 2
Backdrop SKU: FT-5022-2211
Backdrop Size: W50ft X H22ft
Backdrop Weight: Approx. 45 lbs
Leave civilian life behind and enter a world of royalty where this is your backyard! In our Castle Courtyard 2 backdrop you can indulge in the finer things such as flamingos grazing amongst your very own neatly trimmed hedges and vines sculpted into heart shaped figures. To the right we see a large brick wall which might just be one of the walls of your castle. Not only do you have the luxury of several domestic flamingos, they come in all different colors. A salmon colored flamingo hovers idly in the corner while a cotton candy pink one stares into the distance. The purple one stands front and center, and the blue one stays under the radar in the background. If this courtyard wasn�t perfect enough, there appears to be paint work being done on ceramics coming out of the tallest hedges. Red, a powerful and passionate color, is certainly the right choice for a courtyard fit for royalty. It�s easy to get lost in the scenery and when you hang up our Castle Courtyard backdrop you might just find yourself imagining life as a king or queen. Contrary to the popular line from the famous Lorde song �Royals� (�we will never be royals�), we CAN be royals, when we hang up this backdrop and revel in the scene. This great portrayal of elegant courtyard life is a whopping 50 feet wide and 22 feet tall, weighing an average of 45 pounds.
---