Wizard of Oz 4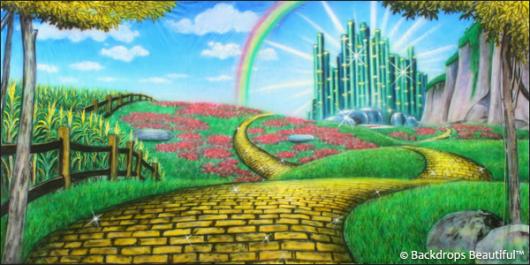 This image is an actual photograph of the hand-painted backdrop.
Backdrop Specifications:
Backdrop Name: Wizard of Oz 4
Backdrop SKU: FT-3015-2176
Backdrop Size: W30ft X H15ft
Backdrop Weight: Approx. 18 lbs

Wizard of Oz Backdrops � How to Host a Wizard of Oz Theme Party
The Wizard of Oz is one of the most beloved classic films of all time. Children and adults enjoy many memorable moments from the movie such as, Dorothy and her friends dance down the yellow brick road. What better way to celebrate your love for the movie than with a themed party? Wizard of Oz backdrops, costumes, and decorations will make your party a huge hit.
Wizard of Oz Party Checklist
Item 1. Invitations: After the date has been set and guest list finalized, it's time to make things official. Order a few packs of Wizard of Oz invitations and send to your friends. These invitations will set the ambiance for you party. You can find a variety of themed invitations by searching online. Make sure to order enough so no one is left out.
Item 2. Decorations: A movie themed party isn't complete without great decorations. Wizard of Oz backdrops are just what you need. The movie is a popular party theme so finding an appropriate backdrop won�t be difficult.
Some of the most popular
Wizard of Oz backdrops
depict the yellow brick road and the farm landscape. It would be nice to buy or rent more than one backdrop so you can decorate multiple areas.
However, if you can't have more than one backdrop, another decorating idea is to hang pictures or posters of scenes from the movie. If you own a good printer, you can print scenes from the movie on glossy photo paper. Line one wall with the printouts or hang them in various locations.
Last but not least, you need dozens of colorful balloons. Make a balloon rainbow and place it around the entrance. Inside include emerald colored balloons and colorful streamers.
Item 3. Costumes: You'll definitely need costumes for this party. Will you be Dorothy or Glenda the Good Witch? Maybe you'd like to be the Tin Man or The Wizard? No matter what you choose, you'll certainly be able to find a costume to fit the occasion.
If you can't find anything locally, shop around online. You'll be able to find a multitude of costumes for your movie party. And don�t forget, red ruby slippers are a must if you plan to dress as Dorothy. Start shopping as soon as possible in case the slippers are hard to find.
Item 4. Entertainment: Do you have access to a big screen television or movie screen? Prepare a viewing area where guests can watch the movie. As for music, pick up a copy of the original movie soundtrack. Theme parties are fun to plan and attend. Start planning your party now. At Backdrops Beautiful you can rent or buy your Wizard of Oz themed backdrop.
---