Stage Showgirls 3A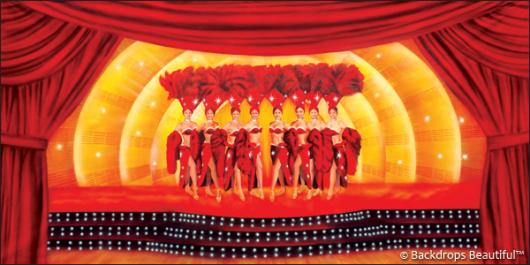 This image is an actual photograph of the hand-painted backdrop.
Backdrop Specifications:
Backdrop Name: Stage Showgirls 3A
Backdrop SKU: SD-2010-3814
Backdrop Size: W20ft X H10ft
Backdrop Weight: Approx. 8 lbs
Bring the Vegas Showgirls to you with the Stage Showgirls Backdrop. Our signature backdrop is hand painted and highly detailed. It displays the lavish and sensual showgirls as they masquerade on the grand stage. The beautiful showgirls are dressed in a very appealing fashion, wearing red bras, skirts and head pieces designed with front facing stars and flamboyant feathers. Behind them are radiating lights which sparkle and illuminate the stage. Sit in the front row, and let the excitement and anticipation build. The Stage Showgirls Backdrop is perfect for Vegas themed events or shows.
---