Dance Floor 8B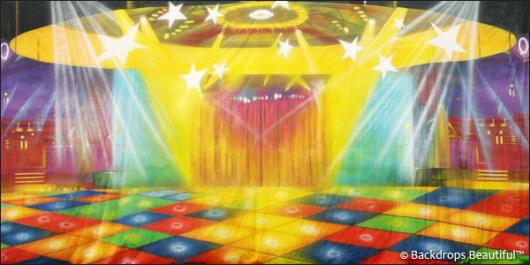 This image is an actual photograph of the hand-painted backdrop.
Backdrop Specifications:
Backdrop Name: Dance Floor 8B
Backdrop SKU: DA-4020-0648
Backdrop Size: W40ft X H20ft
Backdrop Weight: Approx. 32 lbs
Add the fun, excitement and liveliness that a stunning dance floor creates with the Dance Floor Backdrop. Our signature backdrop is hand painted and highly detailed. It vividly displays an enticing multi-colored dance floor, dazzling overhead spot lights and radiating stars. Step on to the marvelous dance floor, and feel the groove taking over your body. The night is just starting, and you are about to have the time of your life. Recreate the perfect environment and energetic atmosphere, as the many vibrant colors stimulate your senses. The Dance Floor Backdrop is a great addition to any show, and is ideal for dance themed events.
---