Courtyard 2 Cut Out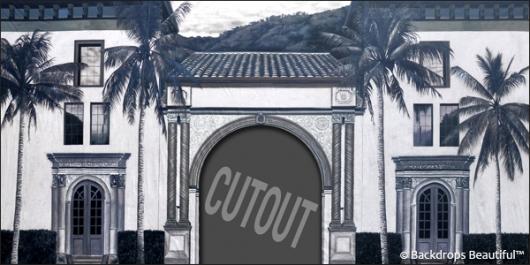 This image is an actual photograph of the hand-painted backdrop.
Backdrop Specifications:
Backdrop Name: Courtyard 2 Cut Out
Backdrop SKU: HW-4018-0999
Backdrop Size: W40ft X H18ft
Backdrop Weight: Approx. 32 lbs
This backdrop was originally designed around the original Hollywood Studios and Paramount Pictures from the 1920s,
however it is also quite generic in its design and may be used for any type of building or prop.

The center archway also available closed and may be used as a slip-thru entrance, as seen in our Hollywood Courtyard 2 (Alt View)
It has been painted in shades of black and white (grayscale).
The opening is approximately 9 feet wide by 9.5 feet high.
---