Casino Royale 1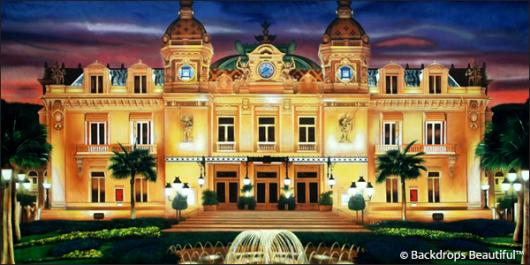 This image is an actual photograph of the hand-painted backdrop.
Backdrop Specifications:
Backdrop Name: Casino Royale 1
Backdrop SKU: FR-4020-1381
Backdrop Size: W40ft X H20ft
Backdrop Weight: Approx. 32 lbs
This beautiful backdrop of gold and dark hues will help to convey an aura of glamour and sophistication for any event. Whether you need it for a professional event, or a more laid back one, this backdrop offers flexibility. The flowing fountain brings out calm and serenity, while the sunsets swirls of red and orange frame the background. The European-style casino itself is a modern and pleasing structure. Who wouldn�t like to take a tour to see what secrets it holds? The many windows and doors give the structure ample light for when the sun finally rises, as well as a view into the well maintained lawn. Several palm trees frame the stairs, and lead to the fountain which serves as the centerpiece. The structure also includes a giant clock in the middle of the building, as well as domed towers. Angel statues surround the clock, as if to protect it from each side from unwelcome guests.
---