Evolution of Dance 1A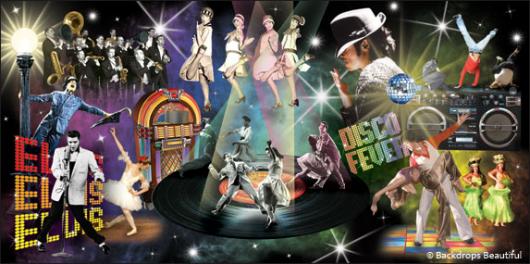 This image is a representation of our painted backdrop. Actual photo available upon request.
Backdrop Specifications:
Backdrop Name: Evolution of Dance 1A
Backdrop SKU: DA-4020-0615
Backdrop Size: W40ft X H20ft
Backdrop Weight: Approx. 32 lbs
The Evolution of Dance can be described as diversified and vast. Decade after decade, talented musicians and performers from all walks of life, have left an impact on the music industry. "The King of Rock" Elvis Presley created a platform for artists such as Michael Jackson "The King of Pop", to reenergize and reinvigorate music in a way that had never been done before. Soul and Funk music with Otis Redding and Little Richard took various rifts of Blues and Jazz to create a sound that was different from the Folk and Church going type of music that people had grown accustomed to. With Diners and Discos coming about, music had to transform itself in a way that could accommodate such eclectic tastes. Not only did the type of music change, but so did its medium. Record players where tone and speed was revolutionary became transformed by stereo players and C.D.'s. This allowed music to reach global audiences, where the message could be delivered to a greater amount of people worldwide. Dance Backdrops help to put a picture to the entertainers and performers who have come into the world and changed it, in a way that could never be forgotten. From square dancing to "Disco Fever", the style of dance has morphed into life in a way that music had to evolve just to keep up with the changing times. Backdrops Beautiful is able to take the history of music and dance, and put the words of the past to an image that encapsulates space and time. The bright colors and historical content help to visualize periods of history that people have lived, loved, and enjoyed.
---