Wizard of Oz 1A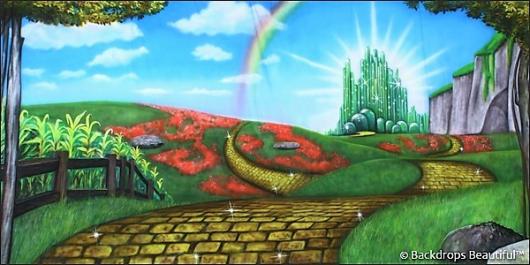 This image is an actual photograph of the hand-painted backdrop.
Backdrop Specifications:
Backdrop Name: Wizard of Oz 1A
Backdrop SKU: FT-4020-2108
Backdrop Size: W40ft X H20ft
Backdrop Weight: Approx. 32 lbs

The corn field and Emerald City on this backdrop are smaller than the rest of the Wizard of Oz 1 series of backdrops.
What Types Of Wizard of Oz Backdrops Are There?
There are many classic plays and musicals, but the one that stands out the most is The Wizard of Oz. The most sought out interpretation is the original Wizard of OZ film which was directed by Victor Fleming in 1939. Dorothy Gale was played by Judy Garland. Dorothy is swept away by a tornado to a faraway kingdom known as Land of the Munchkins, and finds herself on an adventure to see the Wizard who is the only one that can get her back home.
Checklist for Wizard of Oz Backdrops
Backdrops for the Wizard of Oz come plentiful and you have many options to choose from. It is a classic play that will be watched for years to come, so investing into the proper backdrops for your scenes will get you the most ROI.
The first
Wizard of Oz backdrop
on your list should be one that illustrates the yellow brick road. The yellow brick road is the staple of the Wizard of Oz play, and can be used throughout many different scenes of the production. The yellow brick road highlights Dorothy's journey to Emerald City to meet the Wizard. Throughout her journey on the yellow brick road she encounters many adventures and meets new friends.
The famous Emerald City is a must have backdrop for your Wizard of Oz Show. In choosing your Emerald City backdrop it is important to keep in mind what scenes within the city are going to enhance your productions. The Emerald City is where Dorothy and her friends finally meet the wizard at the end of the yellow brick road and is just as much of an icon as the yellow brick road itself.
Finding basic backdrops of forests and farms can provide even more detail into your play of Wizard of Oz. Backdrops of this sort can be used for various scenes of Kansas and the forest as Dorothy and her friends travel through it. The good thing about these backdrops is they can be used in plays other than Wizard of Oz which can give you much more use out of it.
One last type of backdrop you may need is for the inside of the Wicked Witch of the West's dungeon. You can find castle and dungeon interiors to go along with the theme that this scene can provide. Again these backdrops can have multiple uses outside of The Wizard of Oz.
---