Festival 1B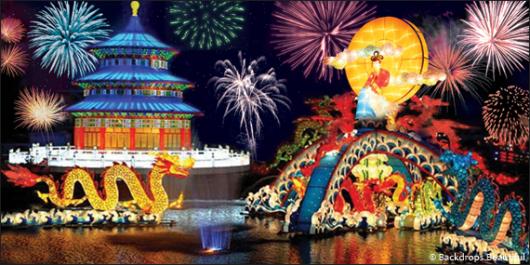 This image is a representation of our painted backdrop. Actual photo available upon request.
Backdrop Specifications:
Backdrop Name: Festival 1B
Backdrop SKU: AS-4020-2818
Backdrop Size: W40ft X H20ft
Backdrop Weight: Approx. 32 lbs
Take part in the celebration with our Festival 1 backdrop. The scene depicts an enchanted night time festival featuring traditional Asian symbols lit up in magnificent lights by the lake shore. The special occasion could be Chinese New Year, the Lantern Festival, or the Dragon Boat Festival. The circular pagoda by the shore glows brightly with jewel-toned lighting as shining props parade across the water. Spectacular fireworks light up the night sky as the reflection twinkles on the lake�s surface. The floats feature the mythical Chinese creature, the dragon, which symbolizes power and wisdom. In most Asian cultures, the dragon is a deity associated with bodies of water and rainfall. A beautiful geisha sits atop the largest float accompanied by more colorful dragons, exposing her pale beauty and raven black hair. Festival 1 will add a thrilling scene to any special event or recital. This backdrop is 40ft wide and 20ft high, and other sizes are available. We also offer similar festival backdrops which can be found under Asia, Fireworks, and Celebration backdrop categories. Even though you are viewing a digital image, we can provide photos of the painted backdrop for viewing. We stand by the high quality of our backdrops painted by our talented artists using an airbrush technique. Lighting will enhance the color and detail in our backdrops. Remember that the best way to view a backdrop of this size is to stand back at least 20-200ft and enjoy the atmosphere it creates. Please refer to our hanging instructions to learn the best way to display this backdrop for your special event. You may purchase this backdrop or rent it from us for any length of time. Since the pricing of all of our backdrops is available upon request, our sales team is eagerly standing by to assist with any questions regarding your event and our backdrops!
---