Celebrate 6 Cake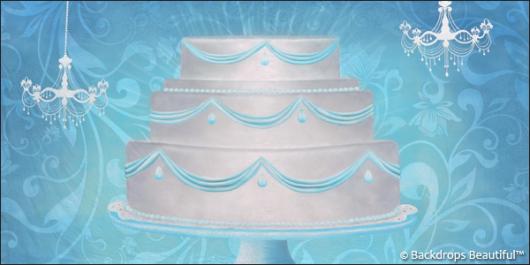 This image is an actual photograph of the hand-painted backdrop.
Backdrop Specifications:
Backdrop Name: Celebrate 6 Cake
Backdrop SKU: CL-4020-1618
Backdrop Size: W40ft X H20ft
Backdrop Weight: Approx. 32 lbs

Here stands the key to anyone's heart: cake. It may sound silly, but cake is a symbol for celebrations, parties, happiness and excitement. Think of every big event in your life: hasn't there been a cake at each one? Cakes are for weddings. Cakes are for birthdays. Cakes are for anniversaries, holidays, graduations, etc. What a better way to commemorate something significant in your life than with a delicious 3 layer cake? The best part about cake is that it can be personalized- some people like chocolate cake, some like Funfetti. Some like to decorate with frosting and others keep it simple. This backdrop not only represents the tastiest of desserts, but something that represents the specialness of all the big moments in your life. This intricately designed backdrop features an enormous white-frosted cake. Blue icing falls in ribbon-like waves across each layer, matching the floral pattern in the background. Beautiful white chandeliers fall in the background, looking almost as if they could be made of icing too. This backdrop is sure to be the life of your event or party. Just looking at it will make people hungry and excited. One of the other great things about cake is that it is loved by people of all ages and genders. No one is "too old for cake" or "too manly for cake." Cake is what brings us together and reminds us that it is important to step away from our day to day routines and celebrate the big and small things in life.
---