Cauldron 1A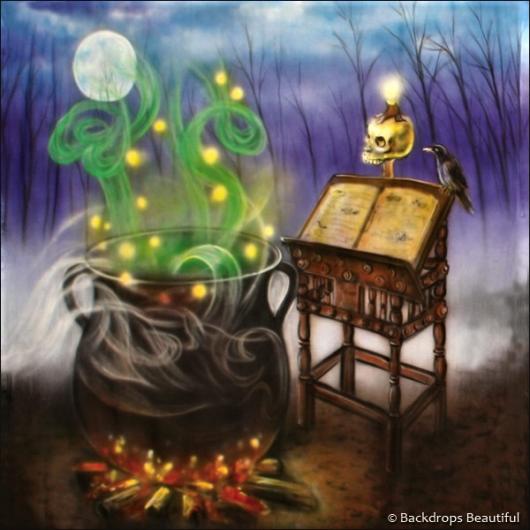 This image is an actual photograph of the hand-painted backdrop.
Backdrop Specifications:
Backdrop Name: Cauldron 1A
Backdrop SKU: FT-1010-2143
Backdrop Size: W10ft X H10ft
Backdrop Weight: Approx. 5 lbs
Green smoke rises from a spooky black cauldron in this classic Halloween backdrop. The moon is hidden behind the bare branches of tall black trees, and a skull candle gives light to instructions for the mysterious recipe brewing in the pot. A crow is perched atop the book and observes the scene around it. One is reminded of the Halloween classic, Hocus Pocus. Surely this is the work of a witch. One eye of newt, one leg of a toad� these are the ingredients we might expect the potion to be made of. The cauldron sits on top of a heap of burning wooden logs, the fire crackling and shooting yellow sparks up around the edges of the pot. It is an eerie sight, only made more daunting by the skull and the full moon. The way that the swirling and glowing steam is painted gives a magical feel. The colors used to create a heavy darkness are a deep purple and dark blue, covered by humid gray clouds. The moon is painted realistically- illuminating the area around it and allowing us to admire the haunted-looking twig-like trees surrounding the area. Having this backdrop at your Halloween event or party is sure to spark the imaginations of your guests and make them feel as though they have been transported into an exciting scene in a horror movie or a mystery. This backdrop is perfect for all ages and is sure to liven up any location.
---