Drapes Gold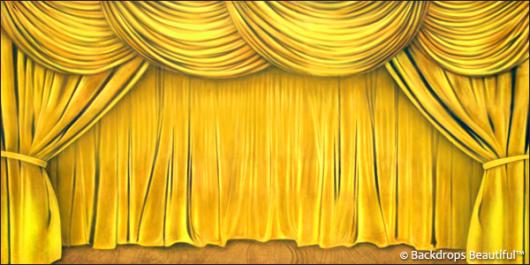 This image is an actual photograph of the hand-painted backdrop.
Backdrop Specifications:
Backdrop Name: Drapes Gold
Backdrop SKU: SD-4020-0403
Backdrop Size: W40ft X H20ft
Backdrop Weight: Approx. 32 lbs
Have flawless and extravagant theatre curtains to create the perfect stage with the Drapes Gold Backdrop. Our signature backdrop is hand painted and highly detailed. The backdrop is perfect or creating a lavish stage setting .It beautifully displays gorgeous golden drapes as they are pulled back by golden ropes, revealing the wooden stage and another glimmering golden curtain as the background. The lavish stage is set, be a part of the grandiose. The Drapes Gold Backdrop is perfect for creating the grand stage for a show or theatre themed event.
---