Funkytown 2B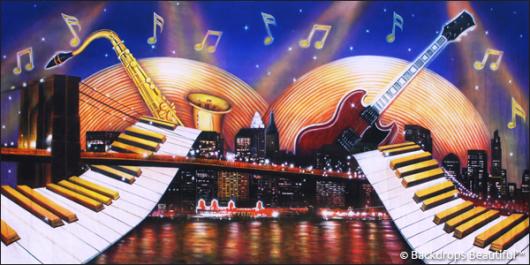 This image is an actual photograph of the hand-painted backdrop.
Backdrop Specifications:
Backdrop Name: Funkytown 2B
Backdrop SKU: MU-4020-1419
Backdrop Size: W40ft X H20ft
Backdrop Weight: Approx. 32 lbs
Add artistic elements of jazz music and the dance nightlife with the Funk Town Backdrop. Our signature backdrop is hand painted and highly detailed. It incorporates the fun instruments that create the livelily and funky music, which makes anyone want to go into the town and dance the night away. Two large parallel piano keys act as bridges, inviting you into the excitement and fun. Saxophones, tambourines, guitars float along the funky town skyline. Bright spotlights shine down on the beautiful night sky, as the stars align and the music brings life into the city. The Funky Town Backdrop is perfect for dance and music themed events and shows that want the nightlife environment and atmosphere.
---