Farm House 2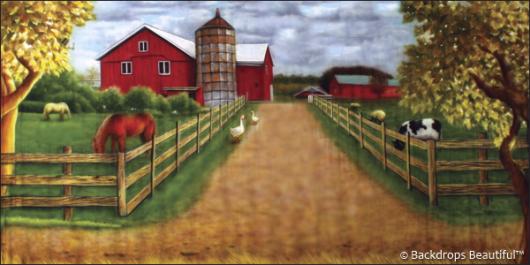 This image is an actual photograph of the hand-painted backdrop.
Backdrop Specifications:
Backdrop Name: Farm House 2
Backdrop SKU: LS-3015-0478
Backdrop Size: W30ft X H15ft
Backdrop Weight: Approx. 18 lbs
The Farmhouse 2 backdrop is one of a series of backdrops depicting a country pathway that leads up to a quaint farmhouse. A cluster of clouds scatter across a light blue sky on what seems to be early morning or approaching evening time. Three horses graze the pastures outside while enjoying the cool breeze. The trees along the worn wood fence are changing their leaves from a light green to a warm orange to transition into the fall season. The deep red farmhouse on the horizon is home the hardworking family that tends to the crops and the livestock on a daily basis. The large rustic silo houses freshly harvested grain. Across the sandy path from the farmhouse is the barn with its distinct green roof that houses chickens and other beloved farm animals. Farmhouse2 will bring a relaxing country scene to your special event and create a unique experience for all those in attendance. This backdrop is 30ft wide by 15ft high, and other sizes are also available. Even though you are viewing a digital image, we can provide photos of the painted backdrop for viewing. Our high backdrops are painted by our talented artists using an airbrush technique. Remember that the best way to view a backdrop of this size is to stand back at least 20-200ft, so set the stage and take in this gorgeous backdrop and the ambiance it creates. Keep in mind that lighting can also enhance the color and detail in our backdrops. Please refer to our hanging instructions to learn the best way to display this backdrop for your special event. You may purchase this backdrop or rent it from us for any length of time. Since the pricing of all of our backdrops is available upon request, our sales team is eagerly standing by to assist with any questions regarding your event and our backdrops!
---