Fantasy Castle 2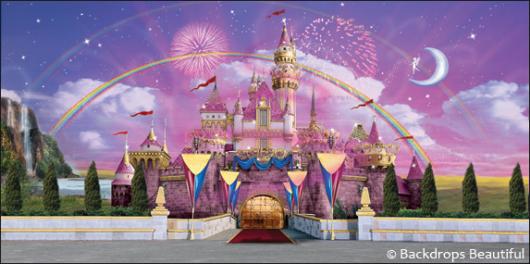 This image is a representation of our painted backdrop. Actual photo available upon request.
Backdrop Specifications:
Backdrop Name: Fantasy Castle 2
Backdrop SKU: FT-4020-2112
Backdrop Size: W40ft X H20ft
Backdrop Weight: Approx. 32 lbs

Feel like royalty with our Fantasy Castle 2 backdrop! This scene depicts a stunning pink castle located just at the end if a red velvet carpet. Marble walls create a pathway right to the castle's entrance. The beautiful towers are decorated with ornate gold molding and draped blue ribbon. The towers are also capped with pink cones and red triangular flags that wave in the wind. Anyone inside the castle would have to explore for days to see each nook and cranny of the magnificent structure. The sky fades from soft lavender to wistful pink as larges white puffs of clouds float across in the distance. The crescent moon is home to a pixie fairy who calls on the stars to come out after the sun sets. Fireworks burst in the sky into blooms of fiery embers just above a beautiful rainbow that completes the imaginative landscape. This backdrop is 40 feet wide and 20 feet high, and other sizes are available. We also offer several similar backdrops featuring fantasy castle scenes, which can be found under our Celebration and Dance categories. Even though you are viewing a digital image, we can provide photos of the painted backdrop for viewing. We stand by the high quality of our backdrops painted by our talented artists using an airbrush technique. Lighting will enhance the color and detail in our backdrops. Remember that the best way to view a backdrop of this size is to stand back at least 20-200 feet and enjoy the atmosphere it creates. Please refer to our hanging instructions to learn the best way to display this backdrop for your special event. You may purchase this backdrop or rent it from us for any length of time. Since the pricing of all of our backdrops is available upon request, our sales team is eagerly standing by to assist with any questions regarding your event and our backdrops!
---