Evolution of Dance 1D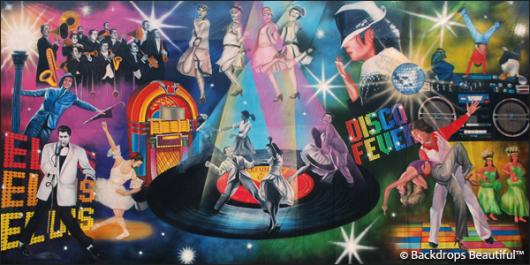 This image is an actual photograph of the hand-painted backdrop.
Backdrop Specifications:
Backdrop Name: Evolution of Dance 1D
Backdrop SKU: DA-4020-4500
Backdrop Size: W40ft X H20ft
Backdrop Weight: Approx. 32 lbs

Commemorate dance and its evolution with the Evolution of Dance Backdrop. Our signature backdrop is hand painted and highly detailed. It chronologically as well as nostalgically depicts the different eras of dance and their historic icons. Go back in time as Elvis comes back to life, and is in the midst of performing one of his hit songs. Or watch as Marry Poppins swings from an old fashioned light post. Dance styles like the twist and jive takes center stage as partners groove on a record dance floor; to smooth music playing from an old fashioned jukebox. Travel to future as the King of Pop, Michael Jackson, is about to moon walk in his black fedora and sparkling stage clothes. Reminisce as a new form of dance; b-boying emerges out of the streets of New York. The Evolution of Dance Backdrop is perfect for dance themed events and shows.
---