Cruise Ship 7A Deck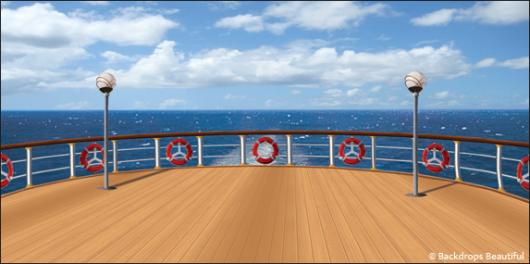 This image is a representation of our painted backdrop. Actual photo available upon request.
Backdrop Specifications:
Backdrop Name: Cruise Ship 7A Deck
Backdrop SKU: TR-4020-1312
Backdrop Size: W40ft X H20ft
Backdrop Weight: Approx. 32 lbs

Totally relax while we take you aboard another luxury liner to an exotic location, make time to walk around the deck viewing 360 degrees of ocean and magnificent landscape with our Cruise Ship 7 Deck backdrop. Whether it�s a week-long tour or even for just a weekend, a trip on a cruise ship will be a vacation experience unlike any other. Being at the nose of the ship, you almost feel like captain of the helm. Have a Titanic moment and look over the rails into the deep blue sea as the cold, crisp air whips through your hair. Bright red lifesavers are hung on the rails in case unfortunate guests should find themselves overboard and at sea. Freshly waxed wood flooring warms up the deck under the afternoon sun. Just kick off your shoes and relax with an icy beverage in hand. This backdrop is 40ft wide and 20ft high, and other sizes are available. We also offer similar backdrops featuring cruise ships and waterfront landscapes which can be found under our Beach Backdrops category. Even though you are viewing a digital image, we will provide photos of the painted backdrop for viewing. We stand by the high quality of our backdrops painted by our talented artists using an airbrush technique. Lighting will enhance the color and detail in our backdrops. Remember that the best way to view a backdrop of this size is to stand back at least 20-200ft and enjoy the atmosphere it creates. Please refer to our hanging instructions to learn the best way to display this backdrop for your special event. You may purchase this backdrop or rent it from us for any length of time. Since the pricing of all of our backdrops is available upon request, our sales team is eagerly standing by to assist with any questions regarding your event and our backdrops!
---