Lunar New Year 2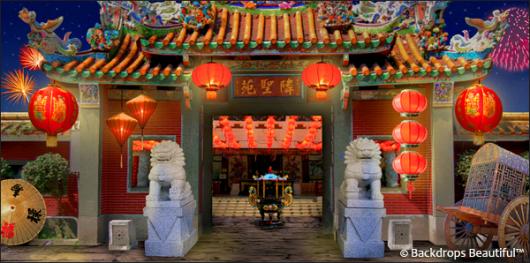 This image is an actual photograph of the hand-painted backdrop.
Backdrop Specifications:
Backdrop Name: Lunar New Year 2
Backdrop SKU: AS-2010-0068
Backdrop Size: W20ft X H10ft
Backdrop Weight: Approx. 8 lbs
Just like our Lunar New Year 1, you can celebrate in style with our Lunar New Year 2 backdrop. This scene depicts the front arch of an Asian structure at nightfall. People adorn their houses with red and gold decorations, symbolizing prosperity and happiness. When the sun goes down, the colorful lanterns light up to celebrate the New Year. Some lanterns have riddles written on them, and children enjoy carrying them through the streets and solving them with friends. Fireworks, dragon boats, and parades are included in the celebration. Family, friends and neighbors all gather to participate in the merriment. Lunar New Year is based on the Chinese lunar calendar. The festivities begin on a different day each year, but they last for 15 days. Lunar New Year 1 is 20ft wide and 10ft high and other sizes are available; refer to Lunar New Year 1. Even though you are viewing a digital image, we can provide photos of the painted backdrop for viewing. This backdrop will offer a notable scene to your special event, and it is sure to make an impression on all those in attendance. We stand by the high quality of our backdrops painted by our talented artists using an airbrush technique. Keep in mind that lighting can also enhance the color and detail in our backdrops. Remember that the best way to view a backdrop of this size is to stand back at least 10-150ft and enjoy the atmosphere it creates. Please refer to our hanging instructions to learn the best way to display this backdrop for your special event. You may purchase this backdrop or rent it from us for any length of time. Since the pricing of all of our backdrops is available upon request, our sales team is eagerly standing by to assist with any questions regarding your event and our backdrops!
---