Festival 8A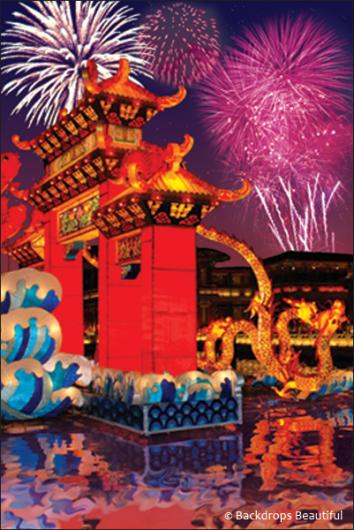 This image is a representation of our painted backdrop. Actual photo available upon request.
Backdrop Specifications:
Backdrop Name: Festival 8A
Backdrop SKU: AS-1015-0076
Backdrop Size: W10ft X H15ft
Backdrop Weight: Approx. 6 lbs
Our Festival 8A backdrop is one of a series of backdrops depicting a traditional Chinese Lantern Festival. Large lanterns take the shape of animals and buildings to represent merriment and celebration. This scene includes the Chinese dragon, a serpent-like mythical creature known to signify strength and wisdom. We were commissioned to paint this series of backdrops specifically for the annual Chinese Mid Autumn Festival. Ancient Chinese emperors were often referred to as dragons because of their shared imperial characteristics. The towering red and gold arch displays the fine architecture of the Chinese culture. People in the village take pleasure in the spectacular fireworks show that light up the dark night sky. Festival 8A will add an impressive scene to any special event or recital, and it will offer a memorable experience for everyone in attendance. This backdrop is 10ft wide and 15ft high, and other sizes are available. This backdrop is best used with Festival 8B to create a more complete and cohesive environment. We also offer similar festival backdrops which can be found under the Asia, Fireworks, and Celebration backdrop categories. This panel will make more of a statement when combined with other festival backdrops. Even though you are viewing a digital image, we can provide photos of the painted backdrop for viewing. We stand by the high quality of our backdrops painted by our talented artists using an airbrush technique. Lighting will enhance the color and detail in our backdrops. Remember that the best way to view a backdrop of this size is to stand back at least 20-200ft and enjoy the atmosphere it creates. Please refer to our hanging instructions to learn the best way to display this backdrop for your special event. You may purchase this backdrop or rent it from us for any length of time. Since the pricing of all of our backdrops is available upon request, our sales team is eagerly standing by to assist with any questions regarding your event and our backdrops!
---