Calendar 1B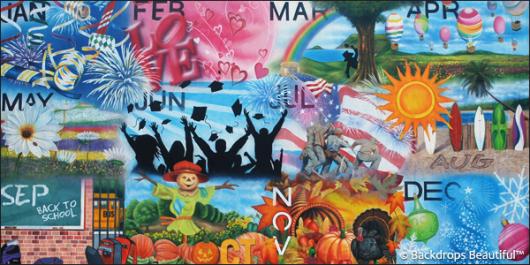 This image is an actual photograph of the hand-painted backdrop.
Backdrop Specifications:
Backdrop Name: Calendar 1B
Backdrop SKU: MS-4020-0794
Backdrop Size: W40ft X H20ft
Backdrop Weight: Approx. 32 lbs

Celebrate every month of the year with the Calendar Backdrop. Our signature backdrop is hand painted and very detailed. It creatively displays the many holidays, seasons and it corresponding months. Revisit New Years Eve, Christmas and Easter. Celebrate the arrival of summer and winter. Each holiday, theme and season are artistically depicted in a seamless fashion. The Calendar Backdrop is ideal for events celebrating a holiday, theme or season throughout the year.
---