Carnival Rio 2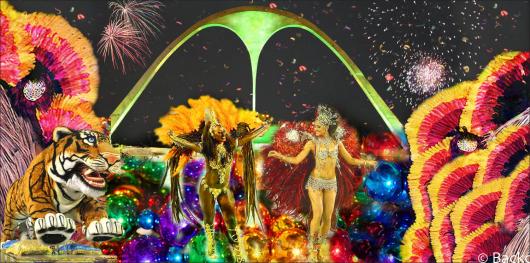 This image is a representation of our painted backdrop. Actual photo available upon request.
Backdrop Specifications:
Backdrop Name: Carnival Rio 2
Backdrop SKU: CL-4020-1603
Backdrop Size: W40ft X H20ft
Backdrop Weight: Approx. 32 lbs
Our Carnival Rio 2 backdrop is one of a series of backdrops portraying various elements of entertainment that take place during the Rio Carnival in Brazil. People from all over the world come to experience this one-of-a-kind event. Rio Carnival is considered the largest and most famous carnivals in the world, creating a benchmark for all other carnivals when it comes to artistry and creativity. Dancers in the carnival wear brightly colored costumes adorned with jewels and feathers to put on an extravagant performance. Beads reminiscent of Mardi Gras are passed to party goers as souvenirs of the wild experience. People dance and sing in the streets well into the night until fireworks light up the sky. This scene is a collage including dancers, decorations, and celebrations. Our Carnival Rio 2 backdrop will add an exhilarating scene to your special event and will keep your guests celebrating all night long. This backdrop is 40ft wide and 20ft high, and other sizes are available. We also offer similar backdrops that can be found under the Carnival Backdrop category. Even though you are viewing a digital image, we can provide photos of the painted backdrop for viewing. We stand by the high quality of our backdrops painted by our talented artists using an airbrush technique. Lighting will enhance the color and detail in our backdrops. Remember that the best way to view a backdrop of this size is to stand back at least 20-200ft and enjoy the atmosphere it creates. Please refer to our hanging instructions to learn the best way to display this backdrop for your special event. You may purchase this backdrop or rent it from us for any length of time. Since the pricing of all of our backdrops is available upon request, our sales team is eagerly standing by to assist with any questions regarding your event and our backdrops!
---