Wedding Canopy 1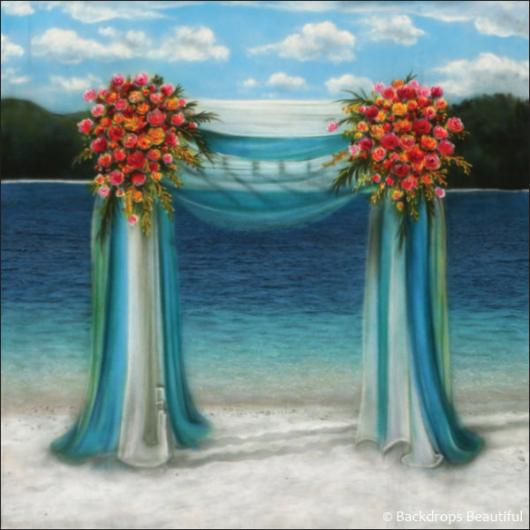 This image is a representation of our painted backdrop. Actual photo available upon request.
Backdrop Specifications:
Backdrop Name: Wedding Canopy 1
Backdrop SKU: GA-1010-1953
Backdrop Size: W10ft X H10ft
Backdrop Weight: Approx. 5 lbs
Are you ready for one of the most important days of your life? Prepare your vows and get ready to say "I Do" with the help of our Wedding Canopy backdrop. Featured on the white sands of a remote island, this wedding canopy is perfect for your special day. Light blue skies are overhead- ideal weather for the day you get married outside. Close to the bright blue waters is the canopy itself. Fashioned out of white, teal, blue and green drapes, this canopy looks not only elegant but carefree. Beautiful rose bouquets are arranged on the top corners of the canopy. These aren't just your regular red roses, though. Pinks, yellows, oranges and different shades of red make up the composition of each group of flowers. If this isn't the perfect place to get married, I don't know where is. Beneath the canopy is where you will look into the eyes of the person you're about to spend the rest of your life with, say your vows, and start a new life. Ahead of you friends and family will sit and watch happily as you exchange rings and kiss for the first time as a married couple. Using careful airbrush techniques, our artists have managed to capture the bright colors that will make your day even more special, in an artistic and creative way. This particular backdrop is part of our Wedding Backdrops series and weighs only 5 pounds!
---