Coral Reef 1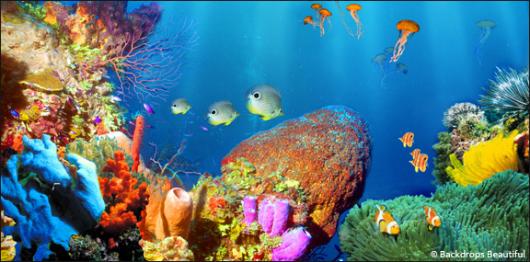 This image is a representation of our painted backdrop. Actual photo available upon request.
Backdrop Specifications:
Backdrop Name: Coral Reef 1
Backdrop SKU: UW-4020-0851
Backdrop Size: W40ft X H20ft
Backdrop Weight: Approx. 32 lbs
This Coral Reef 1 backdrop is one of a series of backdrops that depict a beautiful, vibrant underwater scene filled with colorful fish, coral, and other sea life. Viewing this backdrop gives an atmosphere of tranquility as one is exposed to the great sea life in the deep blue sea. This backdrop gives the ambiance of a peaceful environment that one could only experience through snorkeling or scuba diving in an exotic, exclusive location. The blue ocean is perfectly complimented by the vivid sea plants and coral reef that are the main focus of this backdrop. This tropical scene is just a glimpse into the underwater life in the most desirable location. Just minutes away from sharks, dolphins, and whales, the exotic fish take comfort in swimming towards the coral reef away from any danger. Due to the similarity between the color of the fish and coral reef, the fish can easily hide from any possible predators within the plant life. Furthermore, the two schools of fish seen on the backdrop are swimming towards the coral reef away from the jellyfish and other superior sea life. Perfect for any event, from conferences to educational activities to parties; this backdrop demonstrates its adaptability by concentrating on its vibrant colors and beautiful scenery to complete any event. This Coral Reef 1 backdrop is sized at 40ft wide by 20ft high, but we are willing to customize any of our backdrops to the size that is requested. Our talented artists use a detailed airbrush technique that produces only the highest quality of backdrops that will add the finishing touch to your event. This backdrop can be purchased or rented for any length of time. Although you are viewing a digital image of our backdrop, we can also provide photos of the painted backdrop for your viewing. If you have any questions regarding our backdrops, please feel free to contact our sales team that is waiting eagerly to assist you. Pricing is available upon request.
---