Asian Pagoda 1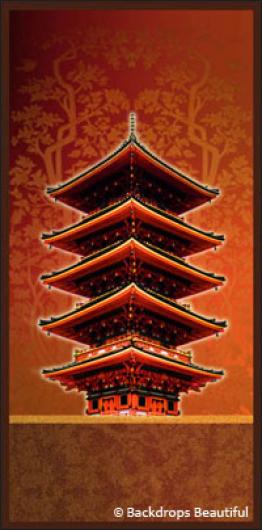 This image is a representation of our painted backdrop. Actual photo available upon request.
Backdrop Specifications:
Backdrop Name: Asian Pagoda 1
Backdrop SKU: AS-1020-0053
Backdrop Size: W10ft X H20ft
Backdrop Weight: Approx. 8 lbs
Admire Asia�s beautifully intricate architecture with our Asian Pagoda 1 backdrop. It features a Chinese pagoda, tiered with multiple eaves, much like other structures found in neighboring Asian countries. Its original purpose was to house ancient relics and sacred writings. Today, pagodas usually have a religious function, serving as a temple or house of worship. Its towering height attracts lightning, encouraging its religious role as a spiritually charged sanctuary. Because of the risk of fire and rotting, the construction materials switched from wood to brick and stone. Traditionally, pagodas have an odd number of floors, except for an 18th century pagoda built in London. The structure glows in front of a red background laced with a hint of natural foliage. Our Asian Pagoda 1 backdrop will create an inspiring theme to any special event or recital. Use this backdrop with Asian Buddha 1 and Asian Dragon 1 for a complete Asian inspired setting. This backdrop is 10ft wide and 20ft high, and other sizes are available. Even though you are viewing a digital image, we can provide photos of the painted backdrop for viewing. We stand by the high quality of our backdrops painted by our talented artists using an airbrush technique. Lighting will enhance the color and detail in our backdrops. Remember that the best way to view a backdrop of this size is to stand back at least 20-200ft and enjoy the atmosphere it creates. Please refer to our hanging instructions to learn the best way to display this backdrop for your special event. You may purchase this backdrop or rent it from us for any length of time. Since the pricing of all of our backdrops is available upon request, our sales team is eagerly standing by to assist with any questions regarding your event and our backdrops!
---