Snowman 5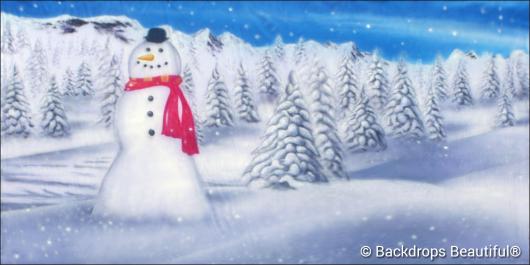 This image is an actual photograph of the hand-painted backdrop.
Backdrop Specifications:
Backdrop Name: Snowman 5
Backdrop SKU: WW-3015-5506
Backdrop Size: W30ft X H15ft
Backdrop Weight: Approx. 18 lbs
Frosty The Snowman was a fairytale, they say. This fairytale is brought to life in a magnificent winter wonderland backdrop. Hills upon hills of white snow roll across the foreground of this painting. One jubilant snowman stands in front of us, smiling from ear to ear. He was made of snow, but the children know how he came to life one day. This guy may not have a corncob pipe and a button nose, but his carrot nose and smile made of coal will make do just fine. He's looking dapper today, in his jet black hat that sits upon his head, and fashionable red scarf draped around his neck. He's definitely a sight to see. Flakes of white snow dust the dark blue sky and light peeks out from the clouds and reflects off the pearly white snow. A forest of trees lies behind our snow friend, covered in white and standing tall. In the far distance we see mountain peaks, also heavily matted in snow- a perfect place to take the kids out for a day of sledding and snowball fights. This wonderland is perfect for any winter time event- looking at it one feels as though they are inside the magical glass walls of a snow globe.
---