Skin Giraffe 2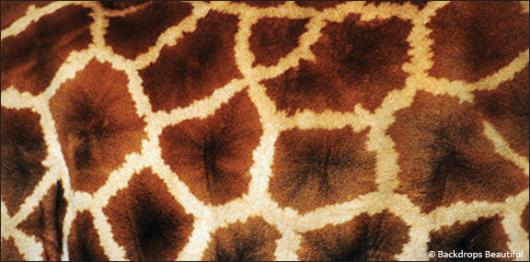 This image is a representation of our painted backdrop. Actual photo available upon request.
Backdrop Specifications:
Backdrop Name: Skin Giraffe 2
Backdrop SKU: AF-2010-0025
Backdrop Size: W20ft X H10ft
Backdrop Weight: Approx. 8 lbs
Our Skin Giraffe 2 backdrop features a giraffe print background that is sure to bring an exotic twist to any special event or recital. The giraffe is known for its remarkable height, reaching up to 17 feet tall. Although it is related to deer and cattle, the giraffe is without a doubt the most unique creature in its family. Its skin is covered in large sporadic patches of yellow and black fur. Despite its tall stature, the giraffe is a gentle creature, feeding only on grass, twigs, and fruit in Central and South Africa. Its long neck helps them to reach vegetation in the trees, giving them an advantage over other herbivores. Whether you're looking for a safari theme or just to bring in an interesting conversation piece, Skin Giraffe2 will create a fascinating mood for your special event or recital. It will be sure to create a unique experience for all those in attendance. This backdrop is 20ft wide by 10ft high, and other sizes are also available; Refer to Skin Giraffe1 and Skin Giraffe3. Even though you are viewing a digital image, we can provide photos of the painted backdrop for viewing. We stand by the high quality of our backdrops painted by our talented artists using an airbrush technique. Remember that the best way to view a backdrop of this size is to stand back at least 15-60ft and enjoy the atmosphere it creates. Keep in mind that lighting can also enhance the color and detail in our backdrops. Please refer to our hanging instructions to learn the best way to display this backdrop for your special event. You may purchase this backdrop or rent it from us for any length of time. Since the pricing of all of our backdrops is available upon request, our sales team is eagerly standing by to assist with any questions regarding your event and our backdrops!
---