Outback Station 1A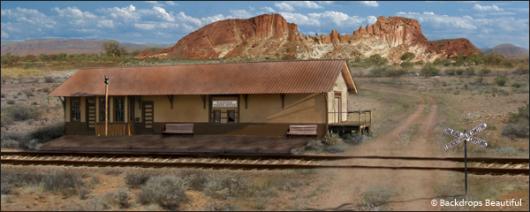 This image is a representation of our painted backdrop. Actual photo available upon request.
Backdrop Specifications:
Backdrop Name: Outback Station 1A
Backdrop SKU: LS-2510-0476
Backdrop Size: W25ft X H10ft
Backdrop Weight: Approx. 10 lbs
While clusters of white clouds make their way across the light blue sky, the earthy mountains on the hillside capture the sunlight on the horizon. Our Outback Station 1A backdrop portrays a dusty railroad station in the countryside of Australia. Small green bushes are scattered across the terrain near tire tracks that have created a pathway in the dirt. The station patiently awaits a passing train to drop off visitors and pick up travelers. The long building takes on the earthy appearance of the landscape surrounding it. It sits in the middle of a quiet and rural countryside, away from the hustle and bustle of city life. The sunlight shines across the front of the station as it approaches high noon. Outback Station1A is identical to our Outback Station 1B backdrop. This scene will add a rustic atmosphere to your special event, and it will create a unique experience for all those in attendance. This backdrop is 25ft wide by 10ft high, and other sizes are also available. Even though you are viewing a digital image, we can provide photos of the painted backdrop for viewing. We stand by the high quality of our backdrops painted by our talented artists using an airbrush technique. Remember that the best way to view a backdrop of this size is to stand back at least 20-200ft and enjoy the atmosphere it creates. Keep in mind that lighting can also enhance the color and detail in our backdrops. Please refer to our hanging instructions to learn the best way to display this backdrop for your special event. You may purchase this backdrop or rent it from us for any length of time. Since the pricing of all of our backdrops is available upon request, our sales team is eagerly standing by to assist with any questions regarding your event and our backdrops!
---