Noahs Ark 2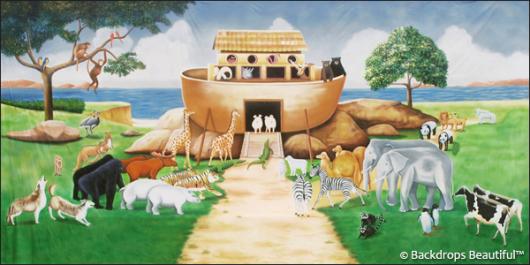 This image is an actual photograph of the hand-painted backdrop.
Backdrop Specifications:
Backdrop Name: Noahs Ark 2
Backdrop SKU: JF-4020-0568
Backdrop Size: W40ft X H20ft
Backdrop Weight: Approx. 32 lbs
Two by two they gradually board the Ark. This story familiar to so many take you back in time to a world only imagined in our dreams. Our Noah's Ark backdrop depicts a scene from the beloved story of Noah and the animals on his ark. Above the horizon is the serene blue sky with puffy wide clouds strewn across it. Wildlife from all over the globe such as elephants, kangaroos, pandas, and camels gather to seek refuge on Noah's ark before the predicted flood washes over the land. Each species is paired up, one male and one female, to prevent them from becoming extinct. The trees are a place for a pair of monkeys and parrots to await their journey on the ark. A pair of bears looks on from the deck of the ark as other wild animals make their way to the loading ramp. Noah's Ark will add a historical and mythical theme to your special event or recital, and it will create a unique experience for all those in attendance. This backdrop is 20ft wide by 10ft high, and other sizes are also available. Even though you are viewing a digital image, we can provide photos of the painted backdrop for viewing. We stand by the high quality of our backdrops painted by our talented artists using an airbrush technique. Remember that the best way to view a backdrop of this size is to stand back at least 20-200ft and enjoy the atmosphere it creates. Keep in mind that lighting can also enhance the color and detail in our backdrops. Please refer to our hanging instructions to learn the best way to display this backdrop for your special event. You may purchase this backdrop or rent it from us for any length of time. Since the pricing of all of our backdrops is available upon request, our sales team is eagerly standing by to assist with any questions regarding your event and our backdrops!
---