Living Room 6 Oasis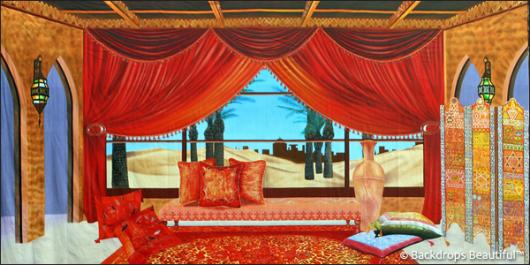 This image is an actual photograph of the hand-painted backdrop.
Backdrop Specifications:
Backdrop Name: Living Room 6 Oasis
Backdrop SKU: IN-4020-3052
Backdrop Size: W40ft X H20ft
Backdrop Weight: Approx. 32 lbs
A room truly fit for a king: here we see the inside of a room that could only belong to royalty. Deep red drapes frame a huge window that overlooks a kingdom of rolling hills and sand. Golden arcs create walls and stained glass lamps glow as they hang from the walls, lighting the room. A bold red carpet threaded with yellows is spread on the floor with red and yellow throw pillows situated on top. An elegant bench is poised at the front of the room and a tall vase stands against the window. The ceiling is crossed with golden beams and compliments the other rich colors. An intricately designed armoire is positioned against the right wall, used as a place for royalty to change clothes. One could only dream of living in a place as lovely as this with a view as grand as could be.
---