Jungle Animals 1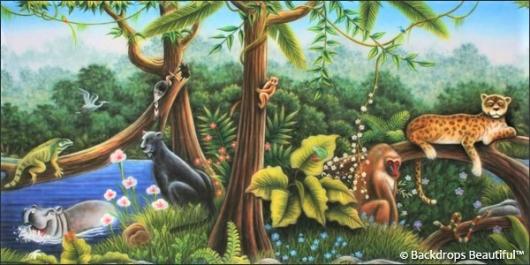 This image is an actual photograph of the hand-painted backdrop.
Backdrop Specifications:
Backdrop Name: Jungle Animals 1
Backdrop SKU: JF-4020-0512
Backdrop Size: W40ft X H20ft
Backdrop Weight: Approx. 32 lbs

Climb into our Jungle Animals 1 backdrop - this is just one of a series of backdrops depicting unique exotic animals in their natural jungle habitat. Deep in the misty jungles lays the home of several different species of wildlife found in the trees, terrain, and waters. A swift cheetah relaxes in the trees while a baboon unwinds in the tall grasses. A scarlet king snake slithers past the baboon making its way to the chilled pond waters. Smaller monkeys swing across the vines in the trees as storks and parrots soar overhead above the trees. A stealthy black panther watches over the happy hippopotamus as it bathes in the shallow waters. A gentle iguana hovers over the shore, taking in the sunshine of the afternoon. Jungle Animals1 will offer an exotic mood to your special event or recital, and it will create a unique experience for all those in attendance. This backdrop is 40ft wide by 20ft high, and other sizes are also available. Even though you are viewing a digital image, we can provide photos of the painted backdrop for viewing. We stand by the high quality of our backdrops painted by our talented artists using an airbrush technique. Remember that the best way to view a backdrop of this size is to stand back at least 20-200ft and enjoy the atmosphere it creates. Keep in mind that lighting can also enhance the color and detail in our backdrops. Please refer to our hanging instructions to learn the best way to display this backdrop for your special event. You may purchase this backdrop or rent it from us for any length of time. Since the pricing of all of our backdrops is available upon request, our sales team is eagerly standing by to assist with any questions regarding your event and our backdrops!
---