African Giraffe Sunset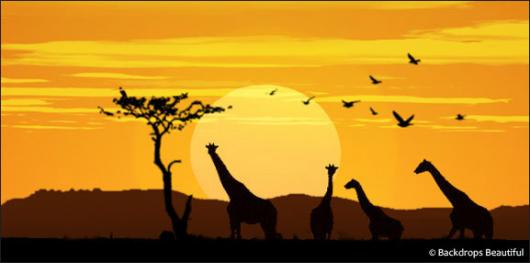 This image is a representation of our painted backdrop. Actual photo available upon request.
Backdrop Specifications:
Backdrop Name: African Giraffe Sunset
Backdrop SKU: AF-4020-0005
Backdrop Size: W40ft X H20ft
Backdrop Weight: Approx. 32 lbs
Our African Giraffe Sunset backdrop is yet another one of a series of backdrops depicting a scene in Africa. This backdrop transmits a feeling of tranquility that will carry through in your event. The time of day could be sunrise or sunset. The animals are silhouetted against a backdrop of brown mountains in the distant and the setting or rising sun. The clouds seem to dissipate in this brilliant African Sky. As the Giraffes look on through their journey amongst the savannah, the birds are on their way to the river. Though this backdrop is in a size that is 40ft wide by 20ft high, it is also available in other sizes too. Even though you are viewing a digital image, we can provide photos of the painted backdrop for viewing. We stand by the high quality of our backdrops painted by our talented artists using the airbrush technique. Remember that the best way to view a backdrop of this size is to stand back at least 20-200ft and enjoy the atmosphere it creates. Our sales team is eagerly standing by to assist with any questions regarding our backdrops. Pricing is available upon request. If you would like more information regarding how to hang these backdrops feel free to ask. Instructions on how to hang the backdrops is really easy! You may purchase this backdrop or rent it from us for any length of time.
---