Van Gogh 1 Starry Night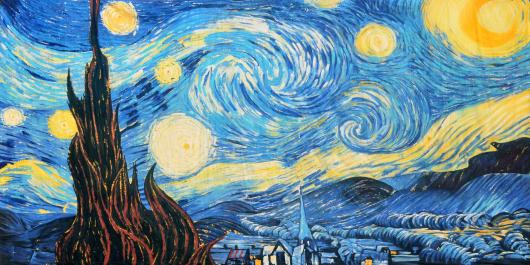 This image is an actual photograph of the hand-painted backdrop.
Backdrop Specifications:
Backdrop Name: Van Gogh 1 Starry Night
Backdrop SKU: MS-4020-0767
Backdrop Size: W40ft X H20ft
Backdrop Weight: Approx. 32 lbs
Most of us are familiar with Van Gogh's "Starry Night." In our Van Gogh Starry Night backdrop we feature our own version of the classic. Using all different shades of blue, the sky is a mix of color. Yellow circles create stars and moons that give this piece its famous name. A small town lives beneath the starry sky. A church steeple rises prominently into the air, towering above the rest of the tiny houses. The plant that stands closest to us is massive and a deep green, continuing the color pattern of dark shades. Add some class and sophistication to your event with this well-known masterpiece that is sure to "wow" your guests.
---