Newspaper 2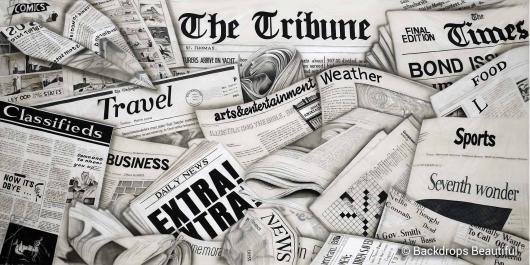 This image is an actual photograph of the hand-painted backdrop.
Backdrop Specifications:
Backdrop Name: Newspaper 2
Backdrop SKU: MS-4020-5126
Backdrop Size: W40ft X H20ft
Backdrop Weight: Approx. 32 lbs
Dive into today's world via the news, in our Newspaper 2 backdrop. Whether you're reading the sports section, the Travel section, eagerly looking for new recipes or skimming the Classifieds, this assortment of papers has it all. Articles peek over other articles in this collage of different newspapers. The Tribune and The Times make appearances on this backdrop and the variety of news ranges from crossword puzzles to business statistics to weather forecasts. Give your event or special setting the feel of an office, or somewhere where knowledge is being rapidly accessed. Knowledge is power and with that being said, this is one powerful backdrop! Reading the news seems to be a lost art, which is a pity because there is just so much to absorb and so much to learn about today's world. This backdrop represents the news on many different scales- from small town news to world politics, all of it is important to read and we should all take advantage of the wide array of resources available to us daily. Our talented artists pretty perfectly captured and replicated the fonts so well-known to us that immediately make us think of different papers (The Tribune, The Times). With this realistic gathering of news, you can create a sophisticated atmosphere. This 40ft by 20ft backdrop is 30 pounds and might just be the perfect final touch to whatever news or information themed event you're hosting!
---