Dance 15 Graffiti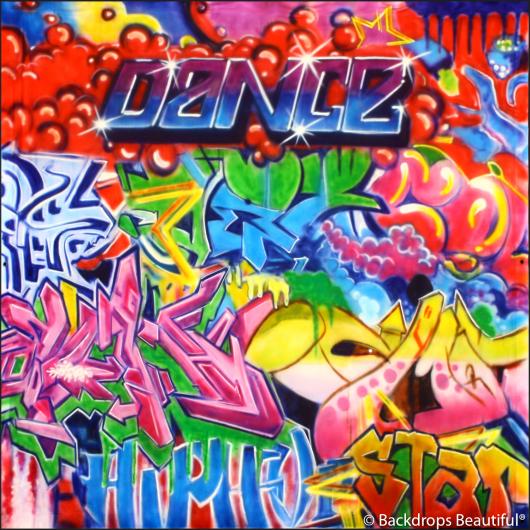 This image is an actual photograph of the hand-painted backdrop.
Backdrop Specifications:
Backdrop Name: Dance 15 Graffiti
Backdrop SKU: DA-1010-0642
Backdrop Size: W10ft X H10ft
Backdrop Weight: Approx. 5 lbs
This backdrop is surely one to remember, with everything that is happening on the canvas. In the center of this piece we see the word �Dance� written in a creative font, colored purple and blue. The corners of the letters sparkle and as singer Rihanna might put it, shine bright like diamonds. This gives a feel of glamour and specialness. The background is splashed with a multitude of bright colors spelling out different words in a variety of graffiti-like fonts. It is a fine representation of the art you might see on the sides of buildings and sidewalks in urban areas, or in a scene from Step Up. With all of the commotion and excitement, hopefully someone looking at this piece would be inspired to dance. We can assume that is what the artist wants, even without knowing who is behind this masterpiece. The combined styles and different varieties of lettering are able to inspire different kinds of people and have different effects on different individuals. The energy is incredible and is sure to make people want to move. We have words written in soft blue with dark blue lining. We have bright blue words covered by an even brighter green word and there are bubble gum pink letters in more than one place on the canvas. This unique piece of art will attract all sorts of people and is an absolute delight to look at.
---